Law Office of
Charles T. VanderVennet

, P.C. 85 West Algonquin Road, Suite 425
Arlington Heights, Illinois 60005

847-593-8240
Fax: 847-593-5632
Contact by E-mail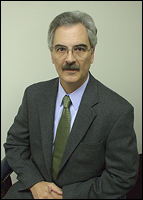 Photo by
Alvin McGovern

Attorney Charles T. VanderVennet concentrates his practice primarily in the representation of condominium, townhome, and homeowners associations. He established his own law office concentrating on real estate and association matters following graduation from DePaul University College of Law in 1982. He has also earned a political science Bachelor of Arts degree magna cum laude from Loyola University of Chicago in 1977. Now in his second 25-years as an attorney, he has returned to sole practice.
Mr. VanderVennet's service as a condominium board member provides direct experience for his work as an association attorney. He is a past president and director of the Association of Condominium, Townhouse and Homeowners Associations (ACTHA) and currently serves as legal advisor to that organization. He is a member of the Community Associations Institute (Illinois Chapter) Homeowner's Forum Committee and served as a host of that organization's weekly Common Interest Radio program on 560 WIND AM. He is a frequent lecturer and writer on topics relevant to condominium townhome and homeowners associations, and he participates frequently in educational forums of topics related to associations. His comments often are included in articles written for various publications about such topics.
The Law Office of Charles T. VanderVennet, P.C., has prepared and maintains this website (CTV-Law.com) for informational purposes only. The information contained on this website is not legal advice, and the transmission or receipt of any content is not intended to and does not create or constitute an attorney-client relationship. Please do not forward any confidential information to this office until you speak with Mr. VanderVennet, receive prior written authorization, and establish an attorney-client relationship with this firm. Until such time as an attorney-client relationship has been established, it will be assumed that any information forwarded to this office is not confidential. Readers should consult with an attorney before relying upon any information contained on this website. The presence of links on this website to other websites does not necessarily constitute the endorsement or approval of any content contained on such other websites.
The Law Office of Charles T. VanderVennet, P.C., generally does not collect or share with third parties information about visitors to this website.